First, today's Not-So-Great Northern Transmission Line open house at the Community Center in Lancaster, Minnesota, just 12 miles from the Canadian border.
At that meeting, the price of electricity came up, with a couple from the area who are customers saying the price is going up and up and up.  Now that's retail, but we know the wholesale price of electricity is down, down, down…
There's also a heap of information at the DOE's EIA site, and there's the NERC Report, the latest is 2012 Long Term Reliability Assessment which addresses the state of the electrical system, whether it can handle demand, if there are shortages or surpluses.  The extreme surpluses in the electrical capacity can be found in the reserve margin charts, most with a reserve margin of at least twice what is needed, with the exception of Texas.
Here's another cute graph about demand growth: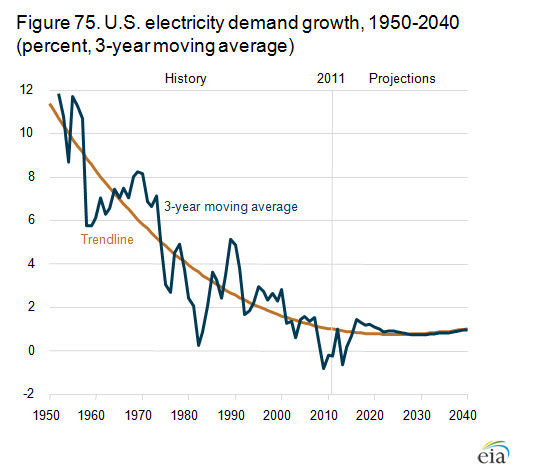 And not only that, there was a tornado just 25 miles away, sited near Graceton, right after the storm went through, the internet went down in the hotel and I had to move… grrrrrrrrrrrr, but found it just a few doors down.
Check the geese in this photo, the tiny dots in the background — that's just a small percentage of the geese that were flying around, and their unusual behavior, flying around and around, and flapping to fly but just staying on one place for about 20 minutes or more, in the fierce wind, that's what alerted me to the approaching bad weather.  Once the rain started pouring, they started landing near the trees along the field.  Click on the photo for a larger version, and look at the dots just over the roofs and street lights, squint and what you think are a lot of specs of dust are the geese.